College, Career, & Financial Aid Advising
The Scholarship Fund's college advisers are available to meet with students and families in our offices at the Alexandria City High School King Street campus all year round (including summer). We would be happy to assist you with anything from planning a college preparatory schedule in middle school, to editing college essays, completing the Free Application for Federal Student Aid (FAFSA), and more. We also host evening programs throughout the school year and provide classroom presentations at the middle and high school levels. Our doors are open to all, but we specifically seek to serve first-generation to college and lower-income families.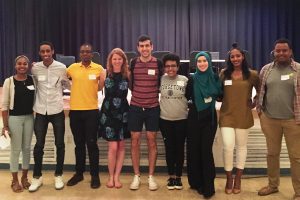 Questions?
We'd love to get to know you and support your family in making college dreams a reality. Please contact us!

Alyssa Samuel – Director of College Advising and Scholarship Programming
college@acps.k12.va.us
(703) 824-6685
Alexandria City High School – King Street Campus, Room A-115
8am – 4:30pm Monday – Friday (school year)
9am – 3:30pm Monday – Friday (summer)
Make an appointment with me at calendly.com/alyssa-samuel
@TC2College on Twitter