GALA 36 | 36th Annual Black-Tie Spring Gala
SAVE THE DATE – April 23, 2022
At the Hilton Alexandria Mark Center
We are tremendously excited to ANNOUNCE GALA 36 – Our in-person 36th Anniversary Gala & Auction to support college scholarships for Alexandria students with financial need.  This year it will be held at the Hilton Alexandria Mark Center.
THANK YOU Alexandria, for 36 years of support for local students and their college dreams.
To purchase your 2022 Gala Ticket or to become a sponsor please visit  http://sfagala.givesmart.com or contact the SFA Office today: scholarshipfund@acps.k12.va.us
To get involved now:
Donate an Item to our Auction:
---
GRACIOUS THANKS TO OUR 2022 GALA SPONSORS
About Alexandria's Biggest Black-Tie Party…
Thank you to all who supported our 35th Annual Spring Gala .  The Gala benefits The Scholarship Fund of Alexandria and helps make college dreams come true for Alexandria's neediest and most deserving students. You can donate an item for our 2022 Silent Auction! Email us to donate or receive an invitation or to become a sponsor, please call 703 824-6730 for more information. Scholarships Change Lives. Forever.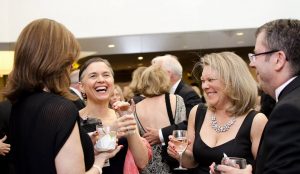 For more information about exclusive sponsorship opportunities  please call or email Beth Lovain, 703 824-6730 or Beth Lovain
The Spring Gala is the annual marquee event for The Scholarship Fund of Alexandria. The community celebrates the generosity of Alexandrians, honors the achievements of past scholarship recipients and raises contributions to help send local Alexandria City High School students with financial need to college.
THE PURPOSE…
All proceeds from the Spring Gala support scholarships for Alexandria Public School graduates who demonstrate financial need, as well as the ability, commitment and dedication to continue their education beyond high school. There is great demand for college scholarships at today's Alexandria City High School, where 2 out of 3 families lives near the poverty level and can struggle to make ends meet, let alone afford college.
All of our generous corporate sponsors are recognized for their investment in the future of our community. Guests have a great night while supporting a great cause.
The Festivities
Our Annual Spring Gala is a formal fast-paced evening of dancing, dining, and silent and live auction shopping.   The event includes a cocktail reception with full open bar and signature cocktail, a gourmet meal, an exciting live auction, entertainment and dancing.  It's Alexandria's Biggest Black-Tie Party and truly a great night for a great cause — sending local kids in need to college!
The Guests
The more than 550 guests who attend the event are a cross-section of our community —  business leaders, government and elected officials, leaders of the Alexandria City Public Schools, and the community at large. All share a desire to invest in our community by providing our young people with the opportunity to pursue a post-secondary education.
The Auction
The Spring Gala includes a fabulous silent and live auction to help benefit scholarships for Alexandria's neediest students. Even if you cannot attend this year's gala, you can browse and bid the catalog beginning in April.