GALA 36 | 36th Annual Black-Tie Spring Gala
SAVE THE DATE – April 23, 2022
At the Hilton Alexandria Mark Center
We are tremendously excited to ANNOUNCE GALA 36 – Our in-person 36th Anniversary Gala & Auction to support college scholarships for Alexandria students with financial need.  This year it will be held at the Hilton Alexandria Mark Center.
THANK YOU Alexandria, for 36 years of support for local students and their college dreams.
More details to come!
To get involved now:
Donate an Item to our Auction:
—————————– For a look at previous events see below. —————————————-
GALA 35 | THE SHAPE OF THINGS TO COME…
PARTNER WITH US. THERE IS GREAT NEED IN YOUR COMMUNITY RIGHT NOW. Two out of three students at T.C. Williams High School live at or near the poverty level. That means that two out of three families have trouble putting food on the table, let alone saving for college. COVID-19 and its far-reaching impacts are devastating local families who already struggle and live near the poverty level. These are the very same families we serve. We need to act now to invest in the students of the COVID generation and help make sure their college dreams become reality.
HOW CAN YOU HELP?  BECOME A SPONSOR OF GALA 35 NOW.  We have a variety of sponsorship levels available, including packages that include VIP ACCESS to any in-person events, gourmet multi-course meals delivered to your home for a virtual event, logo signage on our Gala invitation, web and social media, and on our Gala 35 SWAG BAG. CLICK to REVIEW ALL Sponsor Levels
DONATE AN ITEM OR GIFT CARD TO OUR GALA 35 SILENT AUCTION NOW.   We welcome all gift cards, items, vacation home stays, home improvement services, unique experiences, consulting, tutoring and all services. All auction proceeds support college scholarships for Alexandria students with financial need. CLICK FOR DONATION REQUEST LETTER 
     Donate an Item to our Auction:
HOW CAN WE HELP YOU? WE WILL WORK TO PROMOTE YOU AND YOUR BUSINESS ON ALL OF OUR SOCIAL MEDIA.  Not only will your generous donation benefit an important cause, it will also provide you with a unique marketing opportunity. You'll reach and engage with our 10,000 + local donors and patrons through promotion in our auction catalog, web, print, social media and event publicity and marketing. We want your donation to help expand your business audience. We're all in this together.
While we don't know exactly what shape our Gala & Auction will take this year – virtual, hybrid, a series of small intimate parties – we do know that students and families in Alexandria are counting on your support now more than ever. 

GALA 35 | QUICK LINKS
Register to be a Bidder in our Virtual Silent Auction
Contact us to Purchase a Raffle Ticket for the JACK TAYLOR'S ALEXANDRIA TOYOTA Grand Prize Raffle. $100/ticket gets you one chance to WIN a 2021 TOYTA RAV-4 OR $25,000 in CASH!
If you wish to submit a check or item donation via mail, please mail to: The Scholarship Fund of Alexandria | 3330  King St. | Alexandria, VA 22302 |  501(c)(3) TAX I.D. No: EIN 20-0031464  THANK YOU!
---
GRACIOUS THANKS TO OUR

2022

 GALA SPONSORS
VALEDICTORIAN SPONSOR
PRISCILLA* & MICHAEL* GOODWIN
 JACK TAYLOR'S ALEXANDRIA TOYOTA
SALUTATORIAN SPONSOR
HON. CINDY* & MARK* ANDERSON
ANONYMOUS
MOLLY & HUNT BURKE
BETH & HON. TIM LOVAIN
 LORRAINE REILLY* & BROCK RAMIREZ
SUMMA CUM LAUDE SPONSOR
ANONYMOUS*
HILTON ALEXANDRIA MARK CENTER
HUDSON STUDIO
NEIGHBORHOOD RESTAURANT GROUP
UNITED BANK
FLORAL CENTERPIECE SPONSOR
BERTLES REAL ESTATE
AUCTION PADDLE SPONSOR
BURKE & HERBERT BANK
PHOTO BOOTH SPONSOR
TRANSURBAN LTD. VA EXPRESSLANES
Magna Cum Laude Sponsor
Café Pizzaiolo
Caudron Megary Blackburn Wealth Mgmt. Group
Kathy & Jamie Conrad
Dawson* and Associates, Inc
Albie & Tim Dickson
Page Elliott and Family
Homes of Alexandria*
Pam & Dan Jones
The Kelley* Family
Hon. Christopher Lewis
Lindsay Automotive Group
Melissa & Chris Logan
Lumina Foundation
Renner* & Co. CPA PC
Elynn & Ross Simons
Transurban Ltd. VA expresslanes
Jen & Henri van Goethem
Virginia Tech
Cum Laude Sponsor
Janet Anderson & Tom Willkomm
Jennifer & Timothy Bright
Laura* & Ed Cassidy
christopher consultants ltd.
Discovery Time Learning Center*
EYA
Five Guys
Friends of Don Beyer
Krys & Paul Filios
Alesia & Stephen Frerichs
Marcia & Tom Fulham
The Goodhart Group
Harry Braswell, Inc.
HGA* Architects & Engineers
Hogg Real Property Services
Maria & Harry Hopper
Inova Alexandria Hospital
Hon. Amy* & Blaine Jackson
Libby Eife-Johnson & Bruce Johnson
Mia & Pat Jones
Linda Kelly & Kurt Moser
Lynch* Family Fund
Laurie MacNamara & Bill Hendrickson
Maginniss + del Ninno Architects pc
Lara & Dan Mathews
Vivian & Dr. Robert Miller
McEnearney Associates Alexandria
Teresa & Daniel Murrin
Tracy & Steve Nickelsburg
Dorene & Jim Pickup
Emily & Mike* Porterfield
Kitty Porterfield
Debra L. Raggio
Simpson* Development Co.
Walsh, Colucci, Lubely & Walsh PC
Shannon L. Watson*
Terese & James Wilson
Dean's List Sponsors
Rachel & Sam Alberts
Erica & Bill Anaya
Stacie & David Andersen
Donna & Mango Mike Anderson
Ann & Russ Bailey
Peter Balas & Diego Delgado
Hon. Elizabeth Bennett-Parker & Stephen Parker
Dr. Lois Berlin & Lawrence Stuebing
Amy & Bill Bertles
Joy Cameron & Robert Berlett
Julie Carey & Michael Tackett
Darlene & Dr. Michael*+ Casey
Harlene & Bill Clayton
Jen & Chuck Collins
Alex Crawford-Batt* &Hon. Justin Wilson
Rebecca Davies
Krista* & Philippe Depeyrot
Kristin & Clarence Dillon
Angela & Timothy Gannon
Emily & Andrew* Garrahan
Paulette* & Douglas* Garthoff
Melissa & Michael Harrington
Mandy & Adam Hayes
Jessica & John Hixson
Cheryl & Dr. Gregory* C. Hutchings, Jr.
Lisa Jacobs & Paul Brinkman
Sheryl & Kevin Jahns
Clare & Ed Jayne
Eileen & Mark Jinks
Kristy & Ted Kalo
Hon. Stephanie & James Kapsis
Carol Kaufman & James Enochs
Jean Kelleher
Elizabeth & Ben Klein
Kristi Komai & Alex Murguia
Brooksie Koopman & Hon. Mark Eaton
Hon. Margaret Lorber & Len Rubenstein
Stephanie & Kyle Lynch
Cassie & Shawn McLaughlin
Ginny & Robb Mulberger
Gwen & John Mullen
Hon. Veronica Nolan & Kareem El-Alaily
Ann O'Hanlon & John Harris
M. Catherine Puskar*
Barbara Rosenfeld
Anne Shine & Don Hilty
Sophia & Hon. Chris Suarez
Lucy Thomson & Hon. Arthur Peabody
Claudia & John Waller
Rosie & Mark Wiedemer
Nancy & Hon. Marc Williams
Corinne Birdsong Winburn
Sarah Zapolsky & David Williams
About Alexandria's Biggest Black-Tie Party…
Thank you to all who supported our 34th Annual Spring Gala  — A Salute to The Roaring Twenties.  The Gala benefits The Scholarship Fund of Alexandria and helps make college dreams come true for Alexandria's neediest and most deserving students. You can donate an item for our 2021 Silent Auction! Email us to donate or receive an invitation or to become a sponsor, please call 703 824-6730 for more information. Scholarships Change Lives. Forever.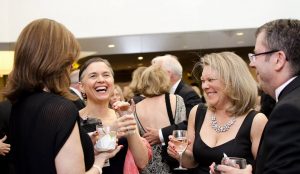 For more information about exclusive sponsorship opportunities  please call or email Beth Lovain, 703 824-6730 or Beth Lovain
The Spring Gala is the annual marquee event for The Scholarship Fund of Alexandria. The community celebrates the generosity of Alexandrians, honors the achievements of past scholarship recipients and raises contributions to help send local T.C. Williams High School students with financial need to college.
THE PURPOSE…
All proceeds from the Spring Gala support scholarships for Alexandria Public School graduates who demonstrate financial need, as well as the ability, commitment and dedication to continue their education beyond high school. There is great demand for college scholarships at today's T.C. Williams, where 2 out of 3 families lives near the poverty level and can struggle to make ends meet, let alone afford college.
All of our generous corporate sponsors are recognized for their investment in the future of our community. Guests have a great night while supporting a great cause.
The Festivities
Our Annual Spring Gala is a formal fast-paced evening of dancing, dining, and silent and live auction shopping.   The event includes a cocktail reception with full open bar and signature cocktail, a gourmet meal, an exciting live auction, entertainment and dancing.  It's Alexandria's Biggest Black-Tie Party and truly a great night for a great cause — sending local kids in need to college!
The Guests
The more than 550 guests who attend the event are a cross-section of our community —  business leaders, government and elected officials, leaders of the Alexandria City Public Schools, and the community at large. All share a desire to invest in our community by providing our young people with the opportunity to pursue a post-secondary education.
The Auction
The Spring Gala includes a fabulous silent and live auction to help benefit scholarships for Alexandria's neediest students. Even if you cannot attend this year's gala, you can browse and bid the catalog beginning in April.