Welcome, Mr. Darien Waters
A warm welcome to Mr. Darien Waters who joins the Scholarship Fund this year as our College Adviser!  Darien graduated from U.V.A. in the spring with  a degree in psychology. He joins us thru a partnership with the Virginia College Advising Corps program. As a college adviser, his responsibilities include providing college and financial aid advice to students and their families and organizing events to cultivate a college-going culture. He is particularly focused on 9th and 10th graders, but will be in room A-117 ready to help ALL Titans, and future Titans, get on the college path.
Mr. Waters is a native of Silver Spring, Maryland. He attended  James Hubert Blake High School, where he played varsity soccer,  participating in the National Honor Society and wrote for the School Newspaper. (Note to freshman: sign up for activities!!) He is the youngest of four children, and in his spare time likes to listen to music, write, play soccer and take nature photographs.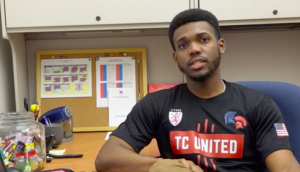 Fun facts about Mr. Waters:
He once had seven teeth pulled at one time. (ouch!)
His favorite Netflix documentary is Planet Earth
He can recite most Disney Pixar movies almost line-for-line… for some reason. (!)
If you see him in the hallway please give him a big hello, and students stop by for college or soccer advice, any time!