Kate Martin 2012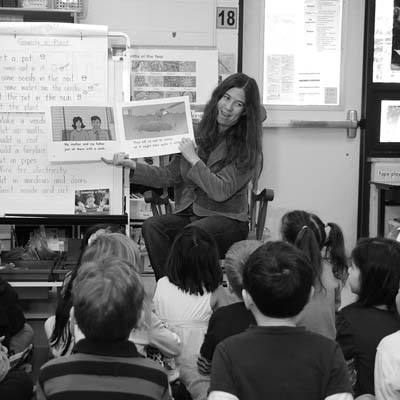 Many kids dream of what they will do when they grow up. Very few of them go on to fulfill that dream. Kate Martin, recipient of the Mary Hatwood Futrell Award, is one of those fortunate few.
Kate attended Douglas MacArthur Elementary School, George Washington Junior High School and T.C. Williams. Her educational experience was positive and something that, along with experiences babysitting and working with children as a camp counselor at the Beverly Hills Church Preschool summer camp, helped her decide very early that she wanted to be a teacher.
Kate was accepted into the early education program at Virginia Tech and her four-year scholarship provided much needed financial support as she pursued her degree. Upon graduation, Kate decided that she wanted to return to Alexandria to teach Kindergarten, to give back to the community that helped her grow and learn in a positive way.
After two years each at Jefferson-Houston and Samuel Tucker, Kate returned "home" to Douglas MacArthur, where she has been for the last eight years. In a lovely twist of fate, she is teaching in the same classroom where she attended Kindergarten, her paraprofessional assistant, LaKeyda Robinson (another Scholarship recipient) is a former T.C. Williams classmate, and her principal, Deborah Thompson, was her third grade teacher. A true Alexandria story!
T.C. Williams Class of 1996
B.A., Early Education, Virginia Tech, 2000