Vantross Medina-White 2014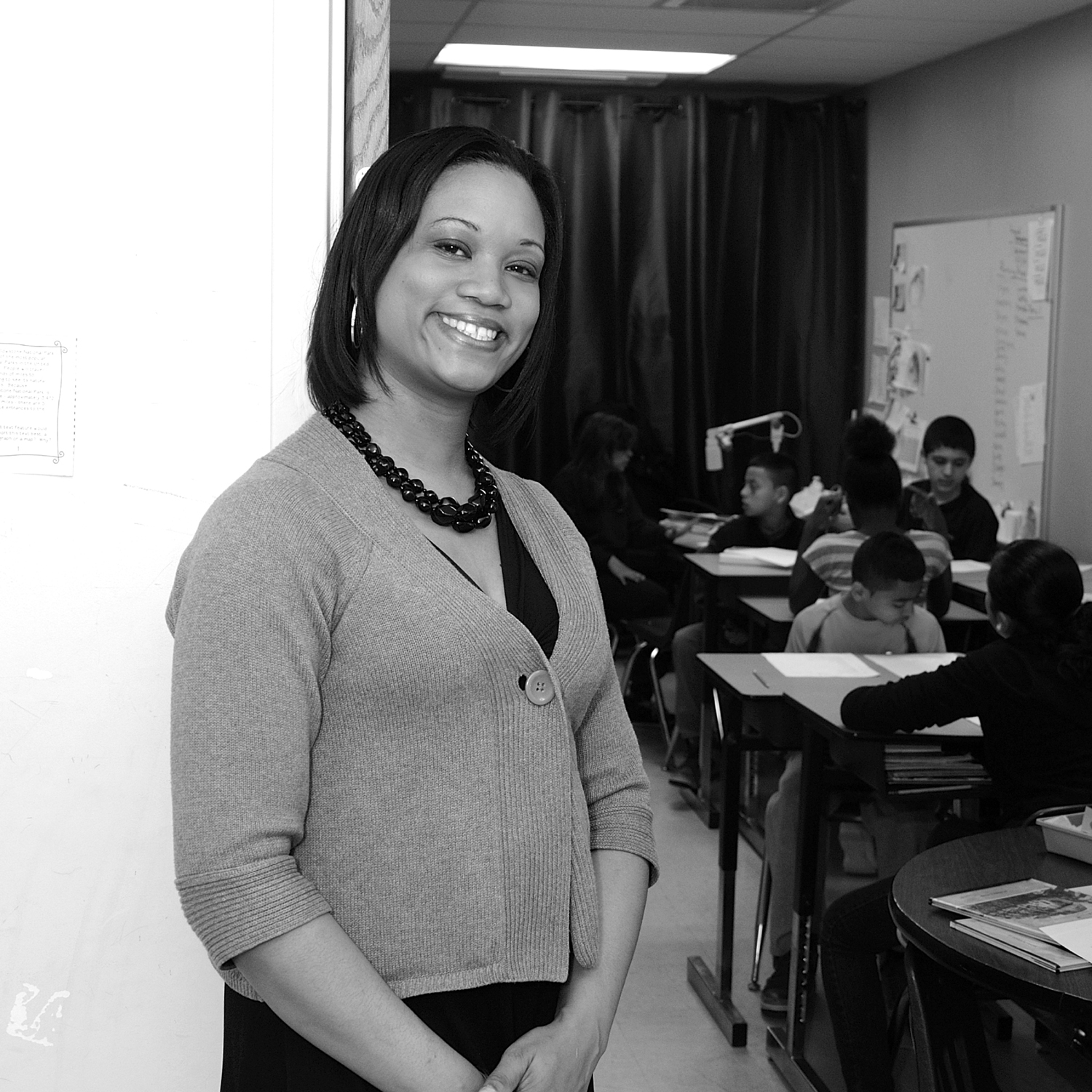 Vantross Medina-White knew at an early age that she wanted to be a teacher. Her mother says that as a young girl Vantross would line up her dolls and play school with them. Once Vantross got to college people discouraged her from teaching since it is not a lucrative job, so she decided to study psychology. During her junior year of college Vantross worked providing therapy to autistic children. From then on, she knew that she had to follow her heart and become a special education teacher. Vantross finished her degree in psychology and the next year began her Master's in Special Education. She has been a special education teacher ever since and is more than satisfied with her fulfilling career.
Hard work has defined Vantross' life. She has never been without at least one job since she began working at age 16. Vantross is the first in her family to attend college, and she worked very hard to realize her dream. Vantross held three part-time jobs while a full-time student at George Mason University. In February of 2000, while a graduate student at George Mason, Vantross received the Black Achievement Award, presented by M.S.A. and NAACP.
Since 2005 Vantross has been a special education teacher at James K. Polk Elementary School in Alexandria. Before coming to the Alexandria City Public Schools (ACPS) Vantross worked for three years as a special education autism teacher in Fairfax County and for two years as a special education teacher at the D.C. National Children's Center. After a lengthy and demanding process Vantross became a National Board Certified teacher in January of this year. Vantross lists this accomplishment as a highlight of her career.
ACPS is fortunate to have Vantross. As she says, "Kids are my passion". She can't imagine having any other career and describes teaching as extremely rewarding. Vantross loves watching the progress that her students make and finds herself tearing up while watching them cross the stage at their fifth grade promotion ceremonies. She says that once her students leave Polk to go on to middle school she sometimes feels a maternal-type fear of letting them go. Vantross says that her students put a smile on her face and described the particular pride she feels in the accomplishments of one of her current students. When this boy arrived at Polk two years ago he was a third grader who didn't even know the alphabet. As a fifth grader he is reading and has grown so much. Vantross still remembers Ms. Wilkoff, her second grade teacher at Patrick Henry Elementary School in Alexandria. Vantross describes Ms. Wilkoff as a caring, lovable woman who inspired Vantross to become a better reader. Vantross sees Ms. Wilkoff as a role model for her own career. Vantross is married and has three children ages 12, 6, and four months. In her limited free time she enjoys interior design and travel.
Vantross was the recipient of the Larry Trice PTSA/SCA Scholarship and says of the scholarship, "It was important because finding the finances to get to college was difficult. It was a relief to not have to worry so much".
T.C. Williams Class of 1995
B.A., Psychology, George Mason University, 1999
M.S., Special Education, George Mason University, 2001